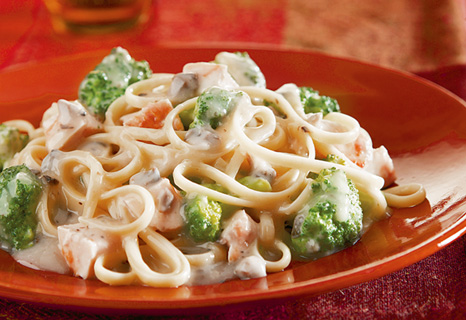 I found this recipe in a magazine.
I used more broccoli and less chicken.
I've been cooking chicken once a week (enough for several recipes) along with a couple of bouillon cubes in the crockpot and it saved on cooking time for this recipe.
Chicken and Broccoli Alfredo
1/2 of a 1lb pkg linguine
1 cup fresh or frozen broccoli florets
2 tbsp butter
1 1/4 lb skinless, boneless chicken breast halves cut into 1-1/2" pieces
1 can (10 3/4oz) condensed cream of mushroom soup
1/2 cup milk
1/2 cup grated Parmesan cheese
1/4 tsp. ground black pepper
1. Prepare linguine according to package directions in 3-qt saucepan. Add broccoli during the last 4 min. of cooking time. Drain linguine mixture.
2. Heat butter in skillet over medium high heat. Add chicken and cook until well browned and cooked through, stirring often.
3. Stir soup, milk, cheese, black pepper and linguine mixture in a skillet and cook until mixture is hot, stirring occasionally.
Serve with additional Parmesan cheese
More recipes on
Campbell's Kitchen